Howell Recreation Preschool & Learning Center
Bennett Recreation Center
925 W. Grand River Ave.
Howell, MI 48843
517-579-2866
Lessons that are discovered with pleasure
are seldom forgotten.
Here are both our of preschool classes with an American flag made with hand prints. Our good friend, Patty Sheets, of CC's Catering has been kind enough to quilt it for us this year, as well as for the last couple of years. Thank you, Patty!
When you come in, take a peek at our beautiful flag!
We are full for the Fall 2019/Winter 2020 session. If you'd like to be put on a waiting list, please call 517-546-0693.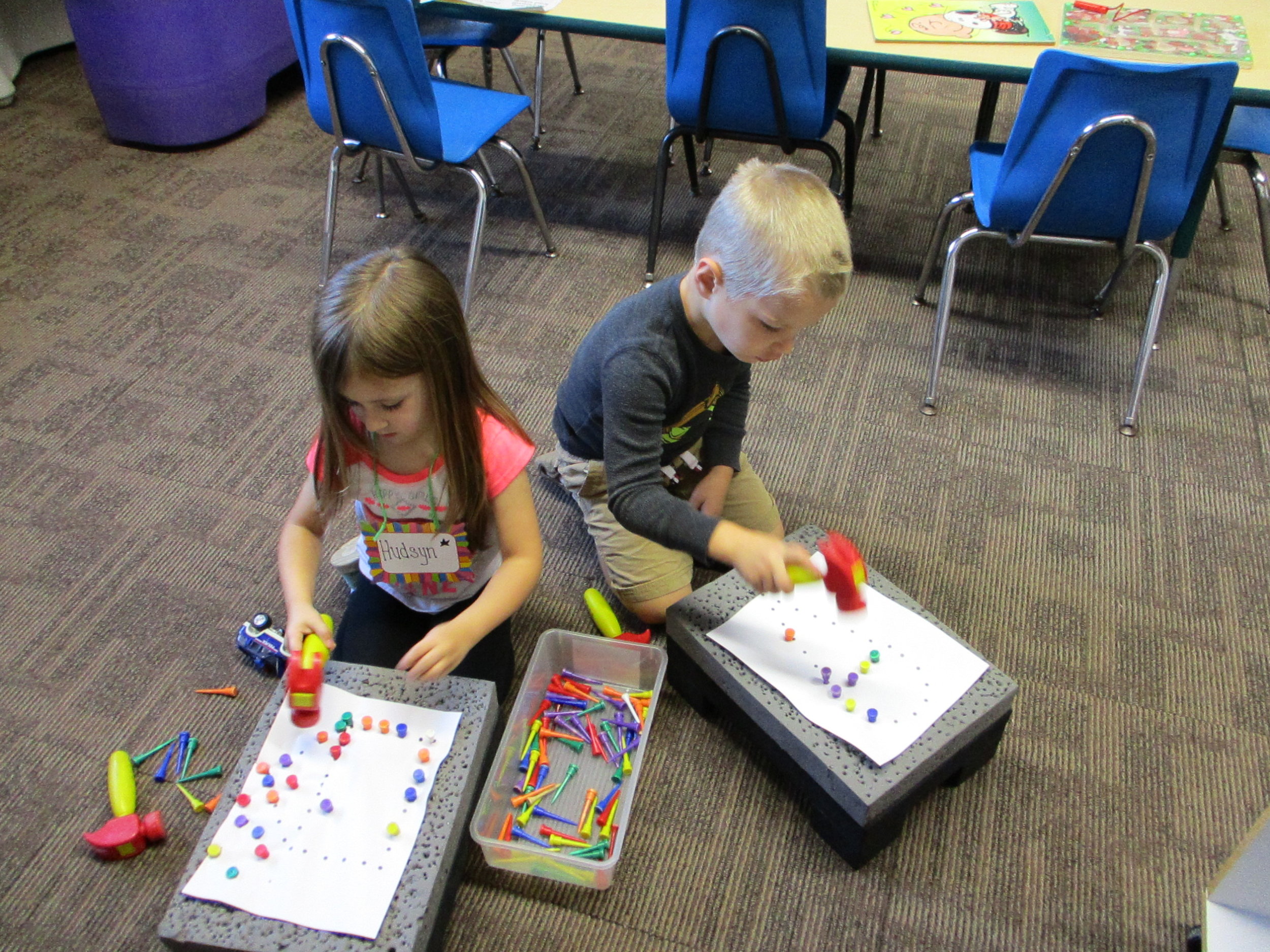 Enroll your child today in one of our active, high-energy classes which offer positive parent-child experiences and a love of learning. Your child will enjoy music, art, dramatic play, storytelling, and much more! Each class is prepared to be a quality learning experience. Using concepts from Creative Curriculum, our play-based program allows children to investigate the world around them using hands-on activities as well as field trips and community visitors. Our program is well established and our teachers are certified with many years of experience teaching with different programs.
Our programs are based on the belief that children learn through their interaction with adults, children, and their environment. Supportive interactions lead the child to a positive self-image that will provide a sound basis for all subsequent learning. Our programs are designed to enhance social, emotional, cognitive, physical, and creative growth. We emphasize the importance of working cooperatively with parents to achieve this goal.
Every school year we will do a preschool assessment on your child. We will also have a mid-year parent-teacher conference to discuss the assessment and our goals for your child.
If you would like to schedule a visit, please call the Preschool at 517.546.0693 ext. 7706.
Schedule of Operation
Preschool begins in early September and closely follows the Howell Public Schools holiday and inclement weather closing schedule. The school year ends in late May.
Registration Deposit
Reserve your space at the Howell Recreation Preschool & Learning Center today! There is a $60 non-refundable deposit to secure a spot. You can pay your deposit at the Bennett Recreation Center, by calling 517.546.0693 ext. 0:
2019-2020 Classes & Fees
Monday/Wednesday/Friday Preschool
9:15am-12:00pm
$175/month for residents
$200/month for non-residents
Tuesday/Thursday Preschool
9:15am-1:00pm
$175/month for residents
$200/month for non-residents
Anyone in The City of Howell, Oceola, Marion, Genoa, or Howell Townships is considered "Resident" and qualify for the Resident price. All other townships are considered Non-Resident.
Extended Day Preschool
We offer an extended day program immediately following class for one additional hour. This extension will allow your child to continue their learning experiences.
M/W Extended Day* - 12:00pm-1:00pm
T/TH Extended Day* - 1:00pm-2:00pm
*Children are required to bring a lunch to Extended Day Preschool

*$65 monthly/$12 daily
Discounts
If you have multiple children enrolled during the same calendar year, you may have a 5% discount on the second child's tuition. Please note, only one discount may be used.